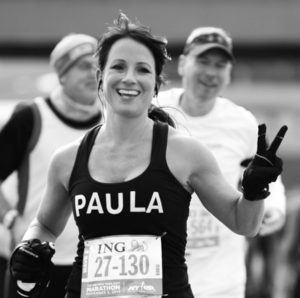 Paula Smith is a certified personal trainer, certified group fitness instructor, Lifestyle & Weight Management Consultant, sponsored triathlete, marathoner and run coach based in Raleigh, North Carolina. With over 25+ years in the fitness industry, Paula can help you live a healthier lifestyle.
Over the last 25+ years, Paula's fitness journey has been a diverse one. From instructing group classes, managing health clubs, leading corporate wellness programs, working as an Exercise Physiologist and starting her own personal training business, Paula has done it all.  She was chosen recently to serve for two years as a Lululemon Run Ambassador and continues to collaborate with their team to create events for the running community.  Paula serves as a mentor to new and established triathletes, marathoners, and fitness enthusiasts in the Triangle area as well as internationally through social media.
Paula is currently a sponsored athlete through Betty Designs (since 2014) and continues to race competitively as an All World Athlete.
Paula lives in Raleigh, North Carolina with her husband and two dogs and has two sons in college. Traveling and photography have become favorite pastimes of hers.
Paula's Sponsors:
Paula's Fitness Certifications
B.S. Exercise Physiology & Physical Education
ACE (American Council on Exercise), since 1995
PACE (Program for Athletic Coaches Education)
ISCA (International Sports Conditioning Association)
CPR & AED (American Heart Association)
Lifestyles & Weight Management Consultant (Nutritional Counseling)
Core Training
H.I.I.T. (High Intensity Interval Training) & Boot Camps
Exercise for Special Populations (Fibromyalgia, MS, Down Syndrome, Cerebellum Ataxia, Rhuematoid Arthritis, Spinal Stenosis)
Training for Youth Athletes
Marathon Training
Triathlon Training
Power Bar TEAM ELITE Spinning / Cycling
STEP Reebok
Yoga & Pilates
Designing Practical Programs:  Balance, Stability, BOSU Ball, Coordination
Implementing Practical Programs:  Exercise & Spinal Stability, Resist-a-Ball Workout, Angles, Positions, Variations for upper & lower body
Xerball Advisor
Functional Training:  Using your own body weight and TRX Suspension Training
KICK FIT Kickboxing
Designing Healthy Lifestyles for Our Children